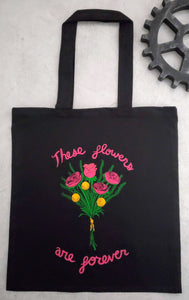 There is nothing that compares with the radiant beauty of flowers. Whether they're growing wild in a field or in a vase on your kitchen table, flowers have the ability to light up a room and fill up your heart! 
The only problem is they're mortal. Eventually time catches up with their beauty and we have to part with them. 
This tote bag is here to help rectify that issue. Revel in the beauty of these flowers that last forever! There has never been a rose, ranunculus, crespedia or thlaspi that holds their beauty for eternity. Treat yourself or someone you love to this beautiful tote and grab a bouquet of fresh cut flowers to go with it!