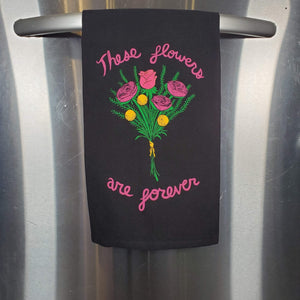 There is nothing that compares with the radiant beauty of flowers. Whether they're growing wild in a field or in a vase on your kitchen table, flowers have the ability to light up a room and fill up your heart!
The only problem is they're mortal. Eventually time catches up with their beauty and we have to part with them.
This tea towel is here to help rectify that issue. Revel in the beauty of these flowers that last forever! There has never been a rose, ranunculus, crespedia or thlaspi that holds their beauty for eternity. Treat yourself or someone you love to this beautiful tea towel and dry you hands on flowers that are forever!
Towels are a uniform 27" x 27" square, 130 thread count, 3 oz each heavyweight flour sack dish towels and hemmed on all sides, There is a corner loop for convenient storage or hang drying. They're machine Washable (cold water recommended). Tumble dry low All hand printed in Toronto with love on 100% cotton. We use environmentally friendly socially responsible and vegan ink.