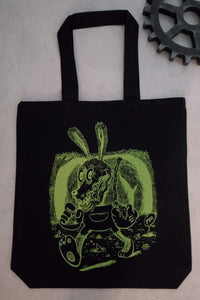 Little bunny foo foo, running through the forest, trip and fell and landed in some radioactive goop. 
This one of my favourite weird for the sake of weird images. The line work is amazing and the neon yellow bursts off the black! It's the perfect tote if you're looking for wearable art or freaking out the normals on easter weekend! 
All hand printed in Toronto with Permaset Ink a socially responsible, environmentally friendly and vegan company.

Printed on 100% cotton.