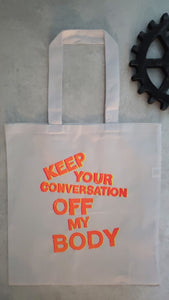 Has anyone ever told you how much better you would look if you dropped 5 lbs? Or that you're too skinny? Or that you should lose the dad bod and tone your muscle? Or that you wear too much make-up? Or not enough make-up? Or that if you wanted to have a baby you should do it soon because you're not getting any younger? Or that you shouldn't breastfeed in public? Or show midriff because you're too soft in the middle? Or wear short shorts because you have cellulite? 
I am truly amazed with how comfortable people are discussing what I should or should not do to my damn body. It's spectacular how entitled people feel when it comes to sharing their opinions with me about how I should eat, dress, workout, do my hair... the list goes on. I know I'm not alone because everything I mentioned above is based on stories I've heard from people in my life.
Wear this shirt to help spread the message that if we didn't invite you to discuss our bodies, you have no business discussing our bodies! I honestly think this relevant and extremely valuable to society to start and be a part of this conversation! 
In other words, you should buy and wear this tote bag with the intention to start a conversation and look badass while you do it! 
All hand printed in Toronto with Permaset Ink a socially responsible, environmentally friendly and vegan company.

Printed on 100% cotton.