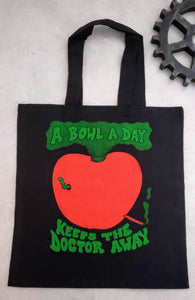 Apples are nutritious, good for your heart, you gut and your mental health when you turn them in to a bong and smoke weed outta them!
Smoking weed out of an apple may be half baked, but in a pinch a MacGyver smoker knows what to do to make shit happen. 
Normalize smoking weed and have a healthy snack when you're done!
Tote Bags are 100% cotton hand printed with vegan, environmentally friendly and socially conscience Permaset Ink.